Session sharing allows multiple users to view and optionally interact with a running FastX session. Session sharing is dynamic, meaning it can be enabled and disabled on the fly.
Sharing a Session
Web Client
Launch a Session
When the session appears in the session list, highlight it
Click on the person icon

Set Sharing to On
Give the link to the guests who you would like to connect.  See Sharing vs Keyboard Control for more details
Desktop Client
Sharing in the Desktop Client is currently not supported
Sharing vs Keyboard Control
Sharing gives anyone with the link the ability to log in and view the session.  Guests cannot interact with the session unless explicitly granted control.  There is a second link that is disabled by default called Keyboard Control.  Giving a guest the Keyboard Control link allows the guest to give control to any other user in the session, including himself.  Keyboard Control is useful when offline sharing is enabled since the owner of the session may not be connected at the time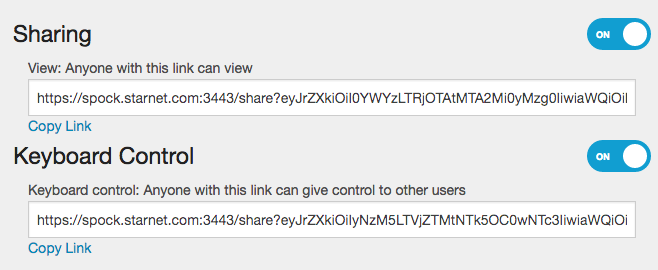 Offline Sharing
By default the owner of the session must be connected to the session before others can connect.  If a guest attempts to connect when the owner is not connected, the guest will receive a message like this
Offline sharing allows guests to connect even when the owner is not connected (ie "offline").  Offline sharing is useful when the guests are trusted partners that need to collaborate on a project.
Enabling Offline Sharing
Log in to the FastX Web Interface as an administrator.
Click on Admin > System Configuration > Sessions > Configuration
Save the configuration
New Sessions will have session sharing enabled
Disabling Session Sharing
Log in to the FastX Web Interface as an administrator.
Click on Admin > System Configuration > Sessions > Configuration
Set Enable Session Sharing to Off
Save the Configuration
New Sessions will have session sharing disabled